Create a fresh, eloquently styled space in your home this Christmas with a few subtle changes that will take any room from drab to fab in no time.
All too often people are intimidated by interior design. A common theme we hear is that people simply don't trust their ability to bring together a well-coordinated space. But it's easier than you may think.
The trick to good interior design is knowing how to coordinate your furniture.
Finding the right balance to create a super-luxe and dreamy home sanctuary can be pulled together with a few simple steps. Treat your guests to the ultimate vogue Christmas with these easy, yet powerful home design tips.
Start with an anchor piece
An easy place to start when designing a beautiful room is by deciding on your anchor piece. This is the piece that will create instant impact – usually a larger piece of timber furniture like a dining table or buffet.
Once you have your starting point, you can experiment by mixing in two or three more wood pieces around it. This could even be artwork in varying timber frames that tie in with the colour or grain of your anchor piece.
Finding an anchor is easy when you consider custom furniture because you have full control over the choice of timber, stain and finish to ensure you are creating a focal point that grounds your entire space.
Create harmony by focusing on a specific furniture feature
When a room is filled with pieces that all look identical, it's easy for everything to fade into the background and become very 'beige'. Draw attention to the anchor piece by tying your furniture together with one defining feature.
For example, you could choose a particular style of furniture – like the clean, modern and classic lines in our Contempo collection (as seen below) – and add variety with different stains or colours of timber. Or, choose furniture that has a similar wood tone but mix it up with different styles and shapes. 
Tip: If you have wooden flooring, try customising your timber furniture in a contrasting tone. For example, if you have flooring that has a lighter stain, break up the room by pairing it with darker furniture.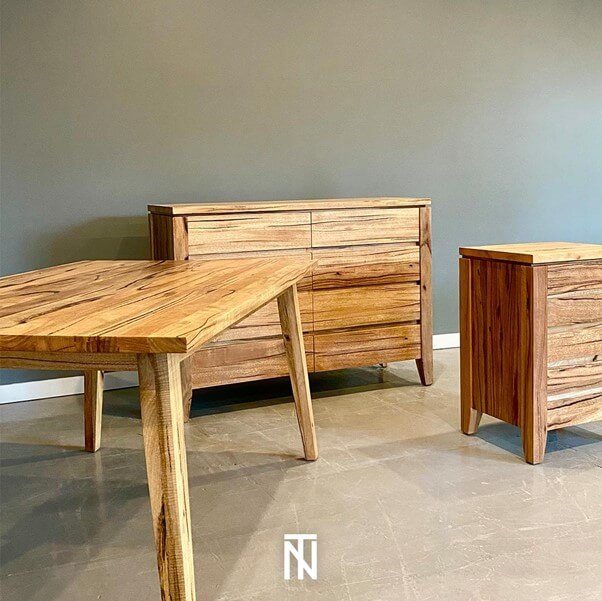 Use accents to create cohesion
Accents are a simple way to tie your environment together. If you feel that the room is becoming very timber-heavy, try tying in an accent colour to bring character and flow back into the room.
Play around with different textured rugs and throw pillows to create depth against the timber furnishings – or serve up visual contrast with different shaped table lamps and artwork.
Artisan-made homewares often create interest due to their unique materials, shapes and colouring.
Keep decor updated to reflect your furniture
Each piece of furniture is designed with a certain style or time period in mind. A room can easily be thrown off because you're trying to pair a traditional style of furniture with ultra-modern decor.
Avoid mismatching and create appeal by choosing accessories that suit the overall theme of your interior. Custom furniture designers are very knowledgeable and can offer a lot of suggestions on how to use certain decor to enhance your staple furniture pieces rather than detract from them.
Tip: make sure you are updating your decor every five to ten years to keep up with other changes you've made to your home.
Consider custom furniture for cohesion and peace of style . . . I mean mind!
Purchasing a custom-made furniture set is a sure way to give your home balance while maintaining style.
Our furniture experts will work with you to ensure furniture pieces work together seamlessly, while boasting a sense of individuality in order to bring character and cohesion to each area of the home.
When styling your home with timber furniture, remember, mixing and matching is an artform. No item can be selected in isolation, and everything you choose will affect the overall look and feel of a room and the wider home.
To help you achieve an interior pallet worthy of a magazine feature pull-out, book a FREE design consultation with one of our furniture experts today.
Limited spaces are available before Christmas so get in quick. Design a dreamy holiday home and go into 2021 with style.